In what has become an important annual tradition of spreading vital information in the ongoing battle against colorectal cancer, local lawmakers including U.S. Rep. Kathleen Rice and Nassau County Legis. Rose Walker once again joined doctors, staff, and patients of Gastroenterology Associates—one of the largest gastroenterology practices on Long Island—for a special recent gathering at its outpatient facility Long Island Center for Digestive Health in Uniondale to raise awareness about this deadly disease.
March is National Colorectal Cancer Awareness Month, and the March 8 event was the third consecutive to be hosted by Gastroenterology Associates and Long Island Center for Digestive Health (LICDH)—and the second at its recently relocated offices.
Colorectal cancer—cancer of the colon or rectum—claims more than 50,000 lives each year and remains the third-most common cancer diagnosed in both men and women within the United States, as well as the second-leading cause of cancer death, according to the nonprofit American Cancer Society—yet with screening, it is preventable.
Congresswoman Rice and Legis. Walker stood alongside members of Gastroenterology Associates' team of specialists, including Dr. Robert Bartolomeo, Dr. Leonard Stein, Dr. Perry Gould, Dr. Gary Schwartz, Dr. Andrew Rosenberg, Dr. Felice Mirsky, Dr. Eugene Michael Sullivan, Dr. Chaim Ross, and Dr. Jennifer Slane, to help spread education, awareness, and perhaps most importantly, hope.
Colon cancer survivors Eileen Costello, Jean Czyak and Kim Burrell-LeFranc shared heartfelt stories chronicling their personal battles against the sinister disease, stressing the importance of screenings and colonoscopies. Congresswoman Rice, the U.S. Representative for New York's 4th congressional district and long a champion and proponent of increasing accessibility and affordability to life-saving preventive screenings, echoed their pleas.
Elected to Congress in 2014, and previously serving three terms as Nassau County District Attorney, where she received national acclaim for her efforts combatting drunk driving, she has been a longtime co-sponsor of bipartisan legislation to help make life-saving screenings not only more accessible, but more affordable.
Under the Affordable Care Act, for example, Medicare and private insurers weren't supposed to charge for co-pays for such screenings, including colonoscopies, her office explained. Yet if a patient undergoes a screening and a polyp is detected and removed, the procedure gets reclassified as "Therapeutic" and not simply a screening, and patients can be charged co-pays.
Rep. Rice has relentlessly fought for legislation to eliminate that possibility, and ensure that patients can't be charged for these all-important screenings—whether a polyp is found and extracted, or not.
She's also co-sponsored multiple resolutions reaffirming the designation of March as National Colorectal Cancer Awareness Month.
"We need to keep raising awareness and educating the public, like we did [at Gastroenterology Associates] and will continue doing all month," Congresswoman Rice has declared. "And we need to make screenings more affordable so that no one can be denied or discouraged from getting a procedure that could save their life."
For Legis. Walker, who was diagnosed with Stage 3 Colorectal Cancer in 2012, involvement in Gastroenterology Associates' extraordinary annual press conferences is her way of paying it forward.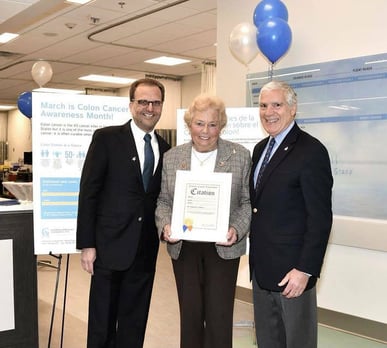 "Thanks to the love and support of my family, friends and co-workers and the excellent care of my entire medical team, all affiliated with Winthrop Hospital, I am blessed to say I am now cancer-free," she told attendees last year. "I am one of the lucky ones, and I feel that I have been given the opportunity to give back—to reach out to others and share the importance of screenings."
The special event also highlighted many of this distinguished practice's exceptional services and capabilities in combatting colorectal cancer.
Gastroenterology Associates' headquarters provides ground-floor access for patients, plentiful parking, and is conveniently situated near Meadowbrook Parkway, Stewart Avenue and Hempstead Turnpike. Long Island Center for Digestive Health, which shares the premises, is a New York State-licensed ambulatory endoscopy center that has been awarded a Certificate of Recognition from the American Society of Gastrointestinal Endoscopy and is accredited by the Accreditation Association for Ambulatory Health Care. This non-hospital outpatient facility is equipped with the tools and technology to conduct advanced diagnostic testing and procedures, including upper endoscopy and colonoscopy, in a comfortable and welcoming environment.
Photos: (TOP) U.S. Rep. Kathleen Rice (D-Garden City) joins Gastroenterology Associates & Long Island Center for Digestive Health's Dr. Leonard B. Stein at its Uniondale headquarters on March 8, 2018 for its annual event to help stress the importance of colorectal cancer screenings during National Colorectal Cancer Awareness Month. (BOTTOM) Nassau County Legis. Rose Walker poses between Gastroenterology Associates & LICDH's Dr. Leonard B. Stein (left) and Dr. Robert S. Bartolomeo (right).

Gastroenterology Associates & Long Island Center for Digestive Health are located at 106 Charles Lindbergh Blvd. in Uniondale, NY 11553. Contact Us Today!