At Long Island Center for Digestive Health (LICDH), patient care is at the heart of everything we do. Nothing is more important to our highly skilled medical team than ensuring that every patient gets the care and attention they deserve.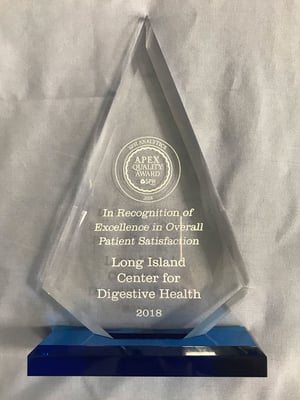 As such, we are proud to announce that LICDH has earned the prestigious 2018 APEX Quality Award for the fifth consecutive year, in recognition of our commitment to excellent patient care.
This reward is especially meaningful to our team, as it is based upon satisfaction scores from our own patients throughout 2018, proving that our focus on care is both recognized and appreciated by the people who are closest to it.
In receiving the award for a fifth consecutive year, we have also proved that our commitment to patient care is no flash in the pan--it is a consistent focus for everyone at LICDH, and something that we deliver on time after time.
Healthcare market research firm SPH Analytics, the program's administrator, states the prizes signify sheer excellence and an unparalleled devotion to patient care on the part of recipients:
"APEX Quality Award winners represent healthcare providers who consistently achieve the highest level of patient satisfaction, earning this recognition that sets clients apart from their peers, The award is patient-centric, with scoring provided solely from each entity's patients. Clinical interaction is heavily weighted in all markets and SPH Analytics evaluates the complementary measures we believe contribute to the effectiveness of care provided market by market."
LICDH has received this award every year since 2014. This year, we were one of just 119 healthcare organizations across the country to share the accolade.
"We applaud all recipients of this year's award for their exceptional impact in driving satisfaction for their patients. And in particular, SPH is delighted to recognize that four of these organizations have earned this APEX Quality Award for 10 years in a row," said Amy Amick, president and CEO of SPH Analytics. "We're honored to partner with each of these healthcare leaders as they maintain and even surpass the levels of exemplary patient experience they cultivate year after year."
We would like to take this opportunity to thank all of the members of the LICDH team who made this possible with their commitment and dedication, as well as every patient who took the time to recognize our efforts by voting for us. We are truly honored.