Just in time for Colorectal Cancer Awareness Month, LICDH was featured in the Long Island Healthcare Profiles section of both Good Housekeeping and Woman's Day.
Colorectal cancer is the umbrella term for cancers of the colon and rectum. It's the third most common cancer in the U.S., and the second deadliest, according to the Centers for Disease Control.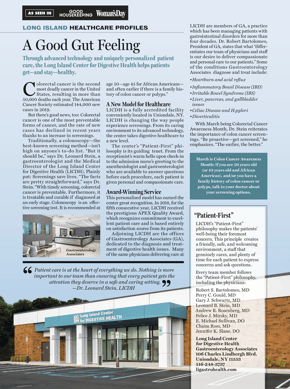 "With timely screening, colorectal cancer is preventable," Dr. Leonard Stein of LICDH told the magazines. "Furthermore, it is treatable and curable if diagnosed at an early stage. Colonoscopy is an effective screening test. It is recommended at age 50—age 45 for African Americans— and often earlier if there is a family history of colon cancer or polyps."
The article highlights LICDH's patient-first philosophy, which aims to create a warm and welcoming environment for patients who deal with all manner of gastric challenges.
To read more about LICDH's award-winning facility and the importance of early detection in colorectal cancer prevention, check out the full article below:


Read Now